Children's Bedroom Accessories: Think Outside the (Toy) Box – A well-organized children's room offers two big benefits: Kids can find what they're looking for fast, and the room stays neater because everything has a place. All parents love organizing kids' rooms because their bedroom is the place where children sleep, play, read… It can be a great place for them to DREAM. Keeping it tidy is a never-ending battle in a kid's room. With one playdate the contents of a tidy toy box quickly return to the floor, books come off the shelves, and that neat row of stuffed animals becomes chaos. While messes are inevitable, having plenty of smart storage spots can help make cleanup easier and faster.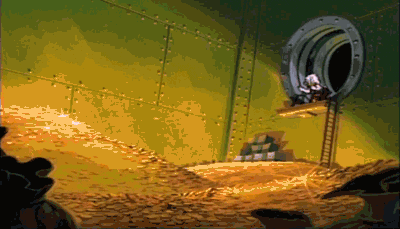 ---
---
---
Clean up your child's floor and teach them the value of good organization with our excellent selection of kids' storage. Toy boxes help your children keep their treasures close by, make cleanup easy and stylish. Kids need and want to use their space for playing, right? They don't want their precious floor space crowded with boxes of their own toys! But heaven forbid they actually have to give up any of those toys!
Gold is a Toybox inspired by the adventures of Scrooge McDuck, the richest duck in the world. The Number One Dime was the first coin that Scrooge McDuck earned, and because of being so special to him, it can be seen in a reliquary with a velvet cushion securing the coin under a protective glass dome.
Inspired by this history, Circu has designed Gold Toybox, a special "reliquary" that your kid can also use to hide their precious goods and to keep safe their secrets and stories.
A piece that allows your kid to embrace magic and creativity, giving you at the same time the opportunity to get some extra storage space in your kid's room. It's the perfect excuse to be as bold, brave or magical as you want. Whether it's a girls' room, a boys' bedroom or nursery.
MATERIALS
Wood
STANDARD FINISHES
Gold leaf, glossy lacquered with metallic paint
WEIGHT
Approx.: 45 Kg
DIMENSIONS
Width: 120 cm | 47.5″
Depth: 50 cm | 19.7″
Height: 40 cm | 15.7″
---
Don't Miss:
---
---
Do you like this post? So be sure to share it in any of the social media channels or let your comment below. Help us to keep our blog up to date with quality content. Your feedback helps us to improve. And don't forget to subscribe to our Newsletter and follow us on FACEBOOK, TWITTER and PINTEREST!
(Visited 43 times, 1 visits today)