Interior Design Trends 2019 – Gold Touches ⇒ Gold and white are two strong colours which when combined together have a tremendous visual impact, an absolute sight for sore eyes. Although this also poses a threat, as these colours on a piece of furniture can concentrate too much attention or may not be suitable for a certain setting. In other words, context is quite a determining factor when selecting furniture.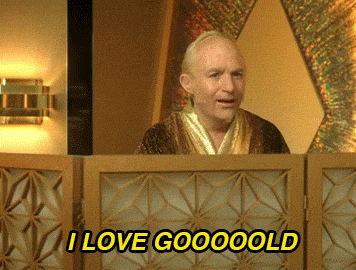 ---
---
---
Gold is extremely versatile when it comes to interior design as it combines with pretty much everything, from other textures and materials to colours and types of furnishings. Often associated with neoclassic, Art Deco, mid-century modern or more extravagant interiors, it is easy to make a sophisticated space with hints of bohemianism and solemnity.
Gold Product's You'll Love
Castles have always been a source of inspiration, adventure and fantasy in the magical world of children. Whether in the role of a King or Prince or in the role of a Queen or Princess, King's and Queen's Castle will delight any child in love with story tails, being the centre of their mystical adventures. This romantic fantasy item is perfect for kids to live a real fairytale with a happy ending. With an inspiring design, the intention is making sleepy times increasingly wanted by little princes and princesses.
Atomic light pendant by DelightFULL is a modern design interpretation of the atomic age, inspired by the composition of the atom. Building this unique lighting design using materials such as brass, steel and aluminium, DelightFULL's skilled artisans arranged it in an abstract composition, just like the non-conventional molecular forms. Both a glossy black and a gold plated finish were used for the body, while glossy black and gold powder paint were the chosen finish for the shades. This stylish suspended ceiling light is the right fit for a contemporary living room, or even for a more modern master bedroom.
The Fantasy Air Bookcase is a kids' bookcase inspired by the Disney movie "Up" and it is the perfect storage item for dreamy bedroom decoration. With a creative and playful design, the Fantasy Air Bookcase is inspired by vintage travel suitcases to reinforce the connection between children and exploring. The decorative suitcases are piled up to provide extra storage. The limited edition exclusivity is provided by the gold leaf applied on the shelves that give a luxurious look to the item.
Gold Box is a luxurious kids' toy box inspired by the fine gold bar shape. Inspired by the adventures of Scrooge McDuck, the richest duck in the world, this toy box is a useful storage solution for kids' precious toys and secret treats. This exclusive toy box is built on wood, lacquered with metallic paint and has gold leaf finishes. It features a rotating cover and a secret compartment, for the most treasured kids' goods.
Check Out this Dreamy Project by Circu in Moscow!
---
Don't Miss:
---
---
>> Do you like this post? So be sure to let your comment below and share it in any of the social media channels. Help us to keep our blog up to date with quality content. Your feedback helps us to improve. And don't forget to subscribe to our Newsletter and follow us on FACEBOOK, TWITTER and PINTEREST!
(Visited 22 times, 1 visits today)