The 5 Best Halloween Movies for Kids to Set the Spooky Mood ⇒ We've hand-picked the best Halloween movies for kids, and we can't wait to share our absolute favourites with you! These 5 spooky, freaky and fun family films are perfect for kids of all ages. If you're having trouble picking one for family movie night, just watch any of these, we guarantee you won't regret!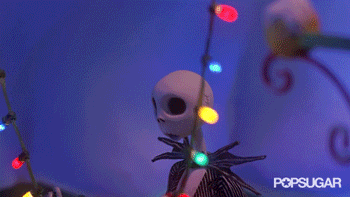 ---
---
The Nightmare Before Christmas (1993)
What to do when you're the Pumpkin King but totally over Halloween? While most folks don't have this problem, Jack Skellington definitely finds the grass greener on the other side. After stumbling into Christmas Town, he's inspired to show the world it's best Christmas ever—even if it means kidnapping Santa himself. While his (mostly?) well-intentioned plan is backed with utmost passion, it turns out that the residents of Halloween Town can't exactly master the art of making toys the average kid would like (cue evil wooden ducks and carnivorous wreaths). While the film is undoubtedly a little dark for younger kids, it's chock full of over-the-top Halloween-themed songs your older set will love to sing for hours on end.
Being in the business of scaring kids isn't easy—Sulley's buddy Mike always reminds him so. When a regular day of terrifying the world's children doesn't go quite as planned, the two monster pals end up with an adorable kid (eeek—what could be scarier!) in tow and need to make a plan to get her home safely. Monsters, Inc. delivers a feel-good ending, and with leading voices from John Goodman and Billy Crystal (plus impressively advanced animation for the time—look at Sulley's fur!), the film easily became an instant classic. Also, what's better for Halloween than a monster movie?
Think you're having a rough day? The protagonist in this stop-motion Tim Burton flick accidentally proposes to a dead girl when he's dreaming of proposing to his (very alive) arranged match. Awkward. You and your crew navigate the world of the undead as Victor tries to get things back in order—though, by the end, normal isn't exactly what he'd thought it was, and you'll have a hard time figuring out who to root for in this sad, sweet romance.
Hotel Transylvania (2012)
This kid-friendly, animated twist on your typical horror movie finds Count Dracula (voiced by Adam Sandler) operating a high-end resort, situated far from humankind. When teen boy Jonathan (Andy Samberg) stumbles upon it falls for the Count's daughter, Mavis (Selena Gomez), the overprotective, undead dad must make sure his guests don't discover the human visitor. The familiar voices of stars like Kevin James, Fran Drescher, David Spade and Molly Shannon help to further demonstrate that monsters have a non-spooky side—especially when they're on vacation.
It's The Great Pumpkin, Charlie Brown (1966)
Can't get enough of Charlie, Snoopy, Linus and the rest of the gang? This sweet flick is one of several holiday-themed family favourites involving your favourite characters. Though A Charlie Brown Christmas is one of our go-to's, It's the Great Pumpkin, Charlie Brown frequently makes its way into our movie marathons in early fall. Prepare for cute costumes, trick-or-treating, pumpkins and—gasp—even a glimmer or Lucy's softer side.
---
Don't Miss:
---
---
Do you like this post? So be sure to share it in any of the social media channels or let your comment below. Help us to keep our blog up to date with quality content. Your feedback helps us to improve. And don't forget to subscribe to our Newsletter and follow us on FACEBOOK, TWITTER and PINTEREST!
(Visited 68 times, 1 visits today)