Christmas Gift Ideas – Pamper Your Kids With the Best Bikes 2018 – The world of kids' bikes has been turned upside down in the past decade. Training wheels are out, balance bikes are in. There's a slew of small bikes with suspension forks and disc brakes for little rippers. And even basic bikes have evolved to make riding easier to learn, more fun, and safer. Bikes are always a safe Christmas gift, as kids of every age (at least until they get old enough to own a PlayStation) love them.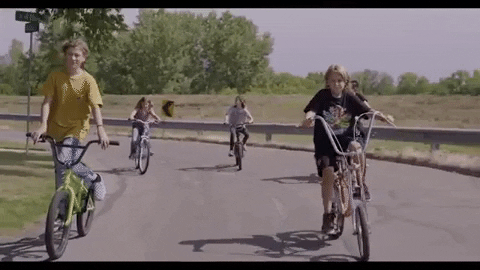 ---
---
---
Woom 1 Balance Bike
With 12-inch wheels and a saddle that can be set low to the ground, the Woom 1 balance bike can fit kids as young as 18 months, giving them a head start on the competition. It comes with air-filled rubber tires for excellent grip on all surfaces, adjustable seat and handlebar, and a feature we love—a rim brake, which teaches kids how to stop right from the start (and saves wear on their shoes).
Cleary Gecko
The Gecko is the bike to get when you have a tot who's ready to pedal at an early age. The 12-inch wheels and stretched-out wheelbase make it incredibly stable and easy for little ones to keep their feet on the ground when they're getting on and off. It comes with a freewheel and front and rear brakes, so kids can focus on learning to pedal with their feet and using their hands to break. It has a light aluminium frame and top-quality parts, so it will last.
Specialized RipRock 12 Coaster
We generally prefer rim brakes to coaster brakes, but this bike has a lot of other things going for it: Good tires, a lower, stretched-out geometry, durable parts, and a good price. An aluminium frame helps keep weight low and the 2.3-inch-wide tires provide good grip on most surfaces. Their wider platform also helps balance and control. The RipRock's low bottom bracket makes it easier than some for kids to hop on and off, which is great when they're learning to ride. The bike comes with training wheels, but they are easy enough to yank off.
Prevelo Alpha 1 14-inch
Prevelo is a new brand on the kids' bike scene, and we're glad it's here. The company makes premium bikes that have a ton of smart features and designs to help little ones ride sooner, better, and safer. The Alpha 1 has 14-inch wheels, which is a bit of tweener size that might not work for all riders but is invaluable to kids who graduate from 12-inch pedal bikes but yet aren't ready for a 16er.
Pello Romper 14-Inch
This is another great 14-inch option. Like Prevelo, Pello is a newer company focused on high-quality kids' bikes. And like the Alpha 1, the Romper delivers. It has a lightweight aluminium frame, geometry a longer wheelbase and low bottom bracket to fit more aggressive riders, and dirt-worthy Kenda tires. This 15-pound shred machine has an aluminium frame and wheels, adjustable seat post and handlebar, and size-appropriate cranks.
Spawn Yoji 16
The stout frame, sloping downtube, burly tires and aggressive lines make this bike look like an all-mountain hardtail ready for Red Bull Rampage. Still, it weighs just a bit over 14 pounds, so your little huckster will be able to pedal it uphill and cruise for miles on bike paths. The parts are just as impressive: Spawn's own Loadstar 1.9-inch mountain bike tires, three-piece cranks with a 64mm BCD (so you can easily change chainring sizes), a sleek Pivotal saddle, and a threadless stem that you can flip over to change bar height as your kid grows.
Priority Start 16
This bike won us over with its smart design that ditches the chain for a belt-drive system that will never rust and doesn't require any maintenance. And because you don't need to lube it, your kids' pants and legs will escape the dreaded chainring tattoos. Other features impress too: There's an aluminium frame, freewheel with front and rear rim brakes, a narrow Q factor, and a total weight just under 16 pounds.
Diamondback Junior Venom
Junior dirt-jumpers and future BMX champs will be stoked to burn off energy on this silver single speed with old-school styling. Designed for cruising around or shredding the bike park, the Venom has everything a kid needs in a first BMX or trail bike: 20-inch wheels with Kenda KidBlock tires; high, wide handlebars, and a single rear rim brakeIt's heavier than some other options, but its sturdy steel frame and fork can handle a lot of cased jumps and wayward endos.
Early Rider Belter Trail T20SC
We love Early Rider bikes. The British company started with smaller balance bikes but has been pushing into high-performance models for older kids. All of their bikes come with a lightweight frame and outstanding parts for the price. And there are few bikes as trail-ready as this one.
Trek Roscoe 20
Trek whipped up a winner when it put together the Roscoe 24. Based on the brand's larger fat bike, this one is scaled down for smaller riders but retains the fatter, 2.8 tires that provide a ton of traction and stability on rough trails. Plough over rocks, cruise through sandy washes, or just pedal for miles on gravel paths—the versatile setup can handle it all. You also get a 1×8 drivetrain, disc brakes, and Trek's Alpha aluminium frame.
Giant TCX Espoir 24
It's a cross bike that also works great for travel adventures. And it makes a solid first road bike too because the wider knobbier tires offer more traction and control than skinny slicks on paved roads. We like the aluminium frame and low standover, which makes it easier for kids to hop on and off.
Credits: Bicycling 
---
Don't Miss:
---
---
Do you like this post? So be sure to share it in any of the social media channels or let your comment below. Help us to keep our blog up to date with quality content. Your feedback helps us to improve. And don't forget to subscribe to our Newsletter and follow us on FACEBOOK, TWITTER and PINTEREST!
(Visited 32 times, 1 visits today)